Every individual has their own tastes, likes, dislikes, and convenience foods. Every body prefers certain foods to function at their best. This post is going to cover MY go-to meals, so don't expect to agree with every option! I have listed multiple options for each meal, desserts, and snacks. 
It's important that you find what works for you and your lifestyle. Experiment with multiple pathways until you find the one(s) you like the best.
     Another thing to note, variety is key here! Because this post is called "go-to meals" I want to make sure you all know how important it is to switch up what you eat pretty regularly! I know sometimes it's easy to get into the habit of eating the same meals every day or week, but I encourage you here to try a new recipe every week — or every month if that works for your life. Take the amount of caution you require, but remember we are always moving forward. 
I'm not really a breakfast person. Don't get me wrong, I love a good weekend brunch. But in my day-to-day, I find myself skipping breakfast more often than not. So for me, I need options that I can make quickly once I'm starving at 11! (I know, breakfast is something I'm working on).
I also need options that are convenient for on-the-go movement considering I love going on morning walks and adventures, sometimes before I get hungry and lasting well into the afternoon.
Green protein smoothies (or fruit/veg/berry smoothies + pea protein powder) are my default breakfast. They are easy to whip up in minutes, and they're convenient as heck! Their only downfall is that it's necessary to keep them cold, but if you're planning ahead you can freeze the bottle and drink it once it thaws! I like to pair these with a yogurt, seeds, and banana at home or a fresh piece of fruit, a date bar, or a banana + peanut butter for on-the-go if I'm looking for a long-sustaining meal.
Another option is an avocado and hummus sandwich. The hummus adds protein which will help you stay fuller for longer! I also add herbs and spices to the avocado, lime/lemon juice if I have it, and greens like spinach and kale. You can also add onion, tomato, and cucumber. Why not? These sandwiches are easy to bring on-the-go once you wrap them up, but you'll want to bring a few napkins for the mess you'll make!
Something I've recently added to my regular rotation has been overnight oats! Oats, protein powder, nut/seed butter, berries, bananas, chocolate chips… the possibilities! My favorite is made from oats, oat milk, pea protein powder, vanilla, cinnamon, chocolate chips, banana, and peanut butter. These make a perfect summer beach/hiking breakfast because they're hearty and relatively light-weight and small to carry.
On the weekends, my partner and I have a semi-regular breakfast date where we get take-out from one of our favorite places and bring it to a park to hang out and take a walk after. Depending on where you live, WFPB breakfast options can be hard to come by. If that's the case, you can always bring one of the three above options to-go! If you're lucky enough to have health conscious restaurants near you, try them out! Make it a fun monthly outing with your partner or a friend.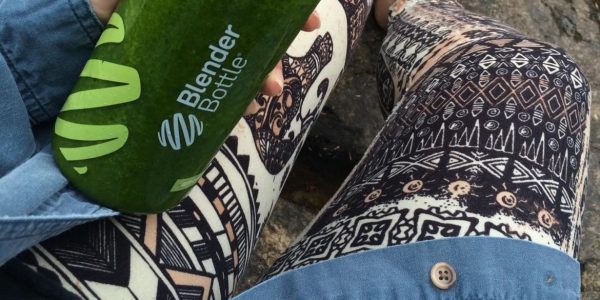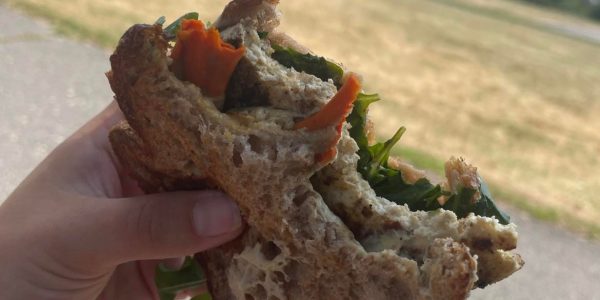 For lunch, I like a cold meal that can typically be eaten at my desk (even though I tell my clients not to do that…). Occasionally I'll sneak away with a book for some outside time during lunch, which makes a cold meal all the better!
If you're finding yourself out and about at lunch needing to rely on restaurants, try to find one in your area that has plant foods to offer! These come in all varieties, from chipotle and burger king to health food stores that make their own tempeh, lettuce, and tomato wraps! See what your options are.
My go-to lunches include salads that I meal prep before-hand (so it only takes minutes to assemble), hummus wraps (more assembly time), vegan sandwiches with tofu or tempeh, or pb&j + seed roll ups!
     I enjoy dinners that are hot meals typically, except during heat waves! My go-to for heatwave dinners is cold pasta with diced veggies, mushrooms, and chickpeas. Meal prepping in the early morning is another heatwave oriented tip.
     My go-to meals for dinner include roasted veggie bowls, soups, chili, pasta/zoodle/squash dishes, black bean/veggie burgers, stir fries with baked tofu and whole grains, and meals centered around beans and mushrooms! There are so many options out there so you're sure to find at least a few recipes you'll want to keep coming back to.
     My biggest advice would be if you don't like a recipe — try another one next time! Often we can let the frustrations of something new hold us back from accomplishing our long-term goals. Begin by searching "easy wfpb recipes" or purchase my starter recipe package e-download here.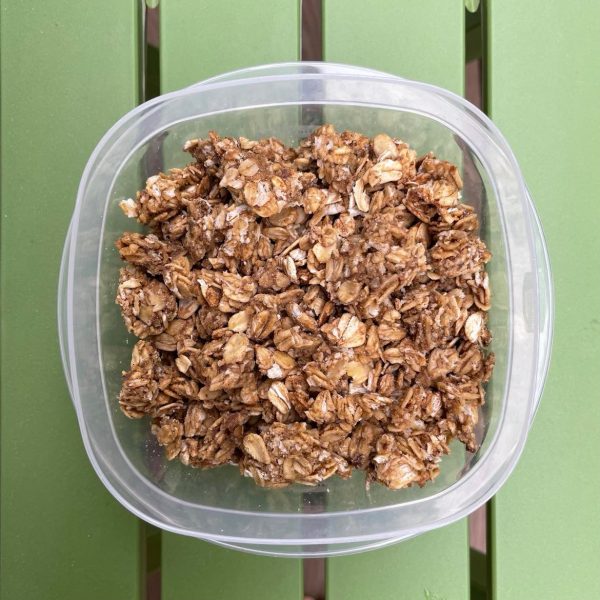 There are many snack choices to choose from nowadays that are still relatively healthy as well as wildly conveinent. Research the brands out there and make your own decisions on that content.
     My favorite whole food plant based snacks include banana and peanut butter, veggies and hummus, roasted nuts or seeds, granola, and yogurt with flax seeds and chia seeds.
See a post about snack choices here.
     Don't underestimate fruit here! Fruit bowls are satisfyingly sweet and are filled with so much water and fiber that they will make you feel so satiated you won't want to eat anything else.
     If you're craving something different, there are hundreds of recipes available out there for wfpb desserts. Get creative. Some DIY desserts might not look pretty, but they will satisfy your sweet tooth! My favorite desserts to make include mug cakes, cookies, and brownies.
     On a regular basis, my "desserts" (the foods I eat to satisfy my sweet cravings) include ethically purchased dark chocolate, banana and peanut butter, yogurt with seeds and banana, fruit, and fruit bowls. 
     Thank you so much for taking the time to read through this post, I'm so glad you're interested in a whole food plant based diet!! Please consider supporting me by purchasing resources for yourself, or consider having a one-on-one consultation with me! If neither of those interest you and you still want to support me, you can see what homemade goods and plants I have to offer here. Thank you so much!
Get back to the blog main page here.